Adventurer
Macker's Army: The Discovery
Posted By: DAN, at: 2019-08-25 00:23:40 EST.
So the first time we'd heard about it, our campmate was spilling his guts to us around the camp fire. Well, it wasn't so much a campfire as a set of pine cones & LED's strewn about a microcontoller and whatever's the European equivelent for two-by-fours.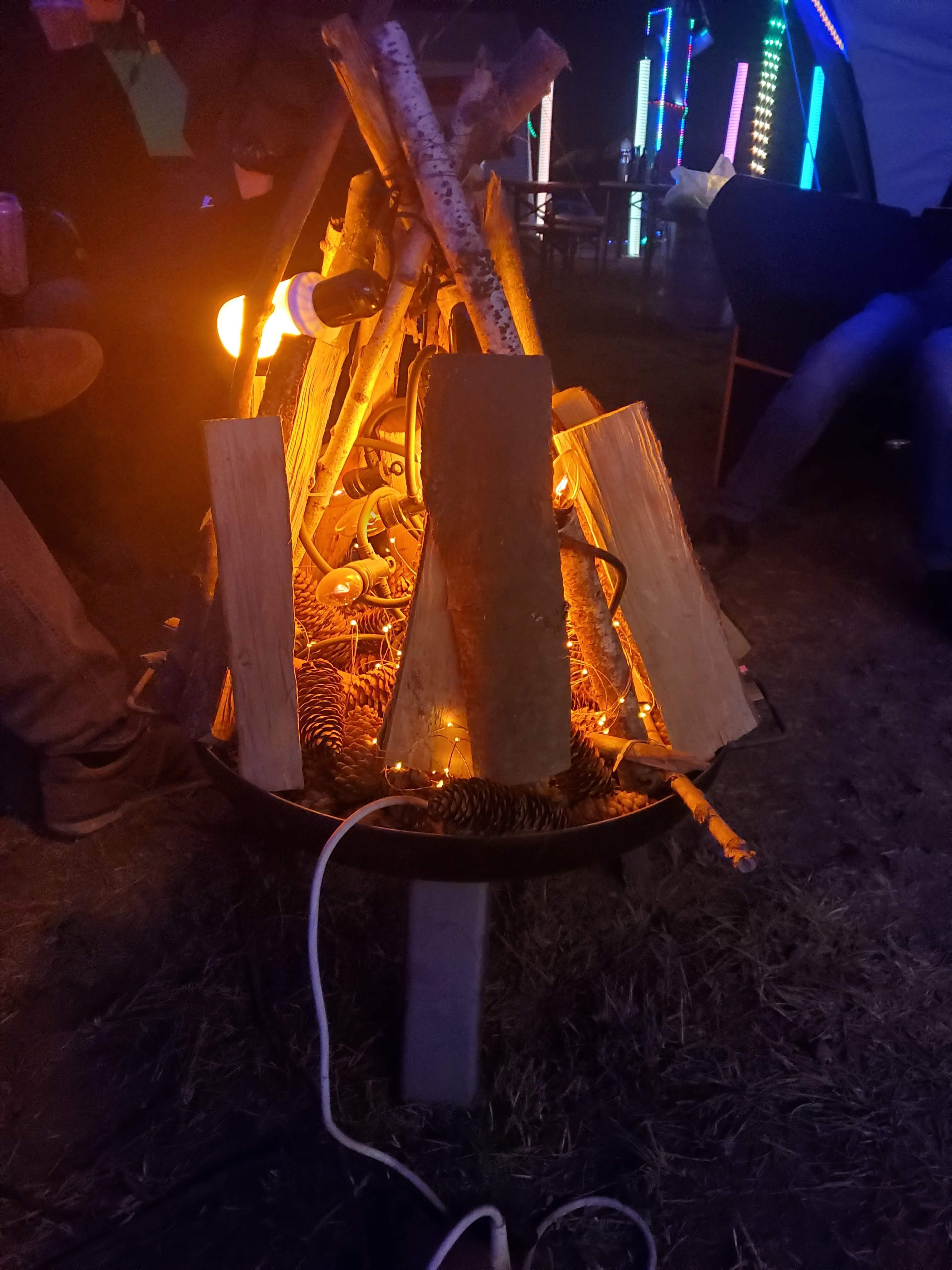 But he had a lot of issues with the world, and at a place like CCC, he felt courage enough to really express them. He was given some of that courage by the Mate with Dark Rum cocktail he'd been drinking. Tschunk adds a plus two bonus to your roll of the Fate Dice, but that roll had already been a natural 20. He was exactly where he needed to be at that time in his life. Serendipity is a bitchin' thing.
Our last discussion had ended on a sour note. He offered his theory on the nature of evolution, and if technology's role would be considered part of the natural progression of humanity. Something we saw earlier during a lecture had kickstarted that conversation.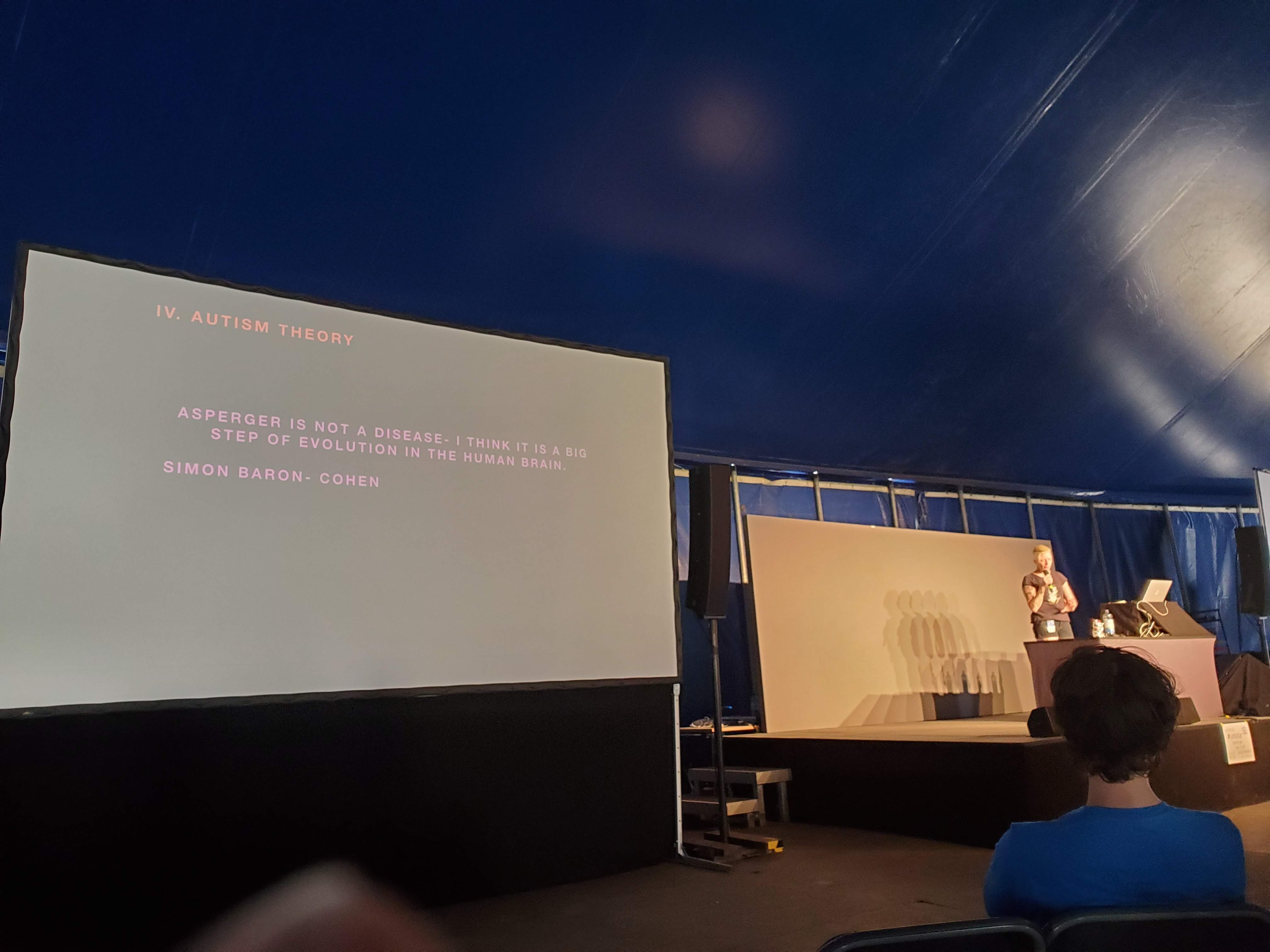 I was wrong when I argued that we'd all be better off if we focused all our efforts on living on our own farms, practicing a strict form of direct democracy. Working on only the technologies that would have direct impact on stemming climate change. I even considered joining them at Eco Hacker Farm. I've always loved to argue for Danarchy, which was kind of a home-grown breed of Anarcho-Socialism. It turns out most of the basics of it are actually successful on a small scale.
I'd been arguing to medicate a symptom. It was only recently that we found out the real way to fix the problem, anyway.
Later that night we found ourselves overlooking a foosball match between a couple of Itallian and German guys. There had been a constant buzz of robots, train cars, bicyclers and nudists, and nerds walking around with open laptops, the command prompts usually weren't blinking because they were still processing their user's last request. It was a strange, mellowed kind of rucous. One where nothing really surprises you. You're just kept in a constant state of amazement. At the new things you keep seeing, the labors of love. He had just scanned the QR code next to the tapper and filled us two plastic pint glasses of lager. It had cost him two satoshis. He could afford it.
The smoke and bubble machines made for an interesting backdrop as the The Woman strolled in, lit a cigarrette, and sat down next to us in the fold-up chair.
She looks right at him and says "You know, that's what's good about being with Macker's Army." I let out an obligatory chuckle. I wasn't quite sure of the reference, though I'd heard of it before. I thought Macker's Army was the name of a protagonist "resistance force" in some obscure cyberpunk movie. It was the same kind of half-hearted laugh you have to give when someone pokes fun of websites that store passwords in a long-since-cracked hashing algorythm. Or make a Star Wars joke or something.
She continued speaking without acknowleging me. "So I was talking to some of the folks. The kind of ideas you have are the kind of ideas we like to foster. Let me know if you're in. By the end of the night. If not, don't ever mention it ever again." There was no quavering in her voice. It wasn't meant to be any kind of threat... but it didn't feel wholly unthreatening. "I'll be hanging out in the Disco Forest most of the night. I'll have my DECT phone on me, I'm listed in the directory."
Though the LSD had warn off hours ago while the sun was still up, my body was tingling. She stood up and walked the path that lead to the 20 foot tall cartoon-like rocket that stood in the Village Square that attached the rest of the camp. She got up in time to stay ahead of the shopping cart. It was was emitting rotating green lazers in chaotic directions down the gravely road while hauling in another keg. It's operator gave us a wave and a nod as he pushed past. It will be at least a half-hour before that foam settles down. Best to wait before tapping it.

We had our answer by the time it was ready to drink the beer.
We had known for a while that there was no way to win a net positive score for Western Culture as a whole. The more we talked about it, the more we came to internalize the futility of our independent passions. We knew the best course of action was to mitigate the terrible amount of damage we were beginning to endure.
We had to aim together, and aim with purpose. Shoot high, and try not to get caught when it comes crashing down. We were now new, ferocious, and able members of Macker's Army. We set off to giver her our answer.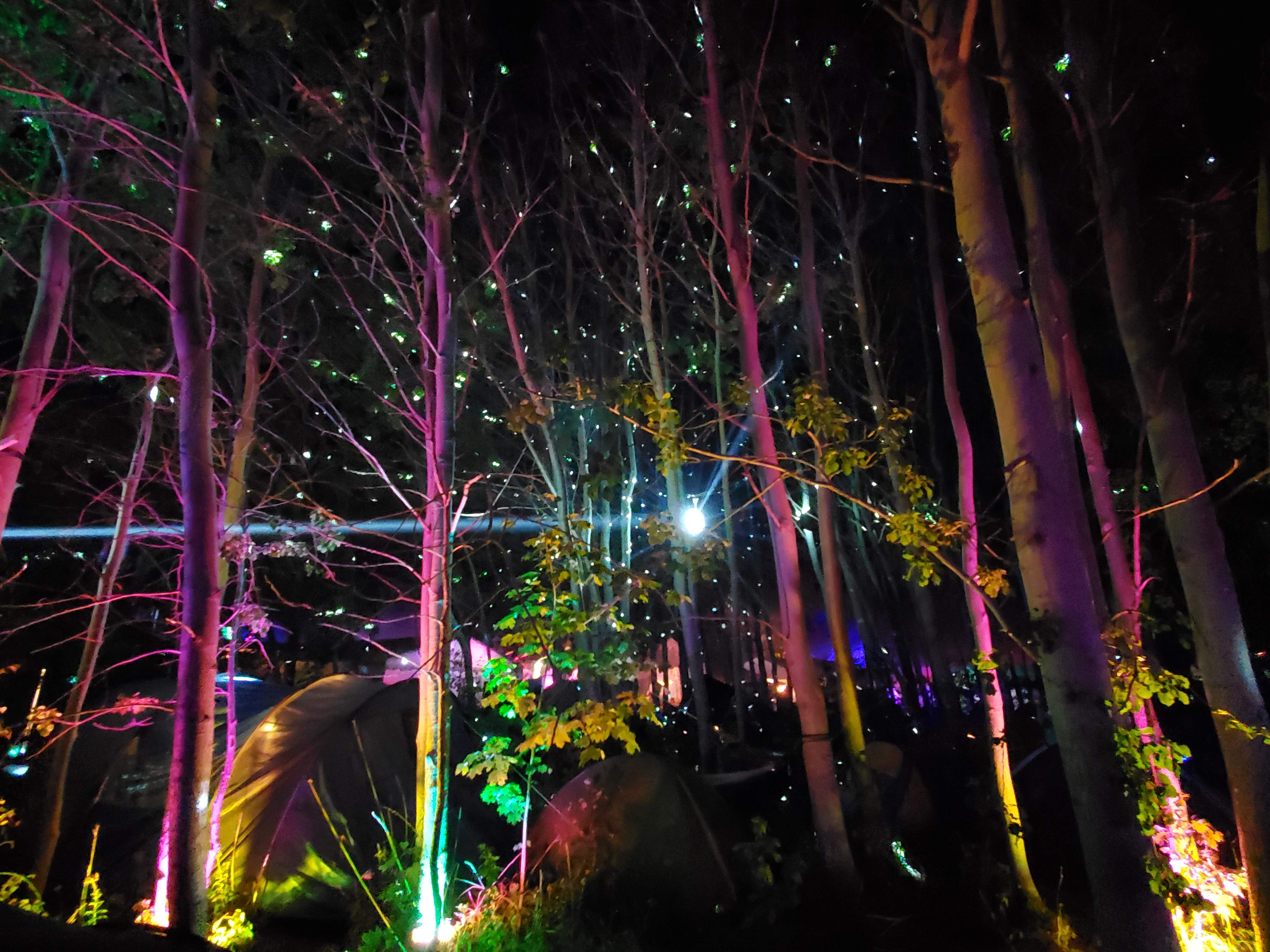 ---
They're Artists. Technology is their Medium of Expression.
Posted By: DAN, at: 2016-08-16 02:56:00 EST.
I wasn't sure what I expected to find at Toorcamp. What I found were my people. Engineers, artists, makers, breakers, academics, and activists all. These people come from different backgrounds. Some hackers like to run unsafe amounts of electricity through capaciters and circuit boards, some like to seek enlightenment (see Mr. Domino above), some like to study and build cryptography, some obscure behavioral disorders, still others like to create walls of programmable glowing buckets, networked together and reactive to GET requests sent from your web browser in the form of RGB (color) query parameters.
Shadytel, a group of campers that provide a local telecom service for the camp, was a majestic model of innefficiency. It has been a staple of the camp since it's inception in 2009 at an abandoned nuclear missile silo in eastern Washington State. What must have been miles of twisted-pair wire ran all around the campground, connecting from a main switchboard to old rotary phones and phonebooths that had been brought onto the island by expectant campers. Despite their reputation of having poor service (it's a running joke around the camp), they were able to lay all the wire and have a fully working POTS (Plain Old Telephone Service) available with custom 5-digit phone numbers for anyone who requested one.
While discussing it around a campfire, it was decided that the implementation of an antiquated system like the telephone is an artform on par with a theatre guild producing a shakespearean play. The classic playwright was culturally influential to drama, while telephony infrastructure enabled advancements in digital communication technology. Many such revelations were made and forgotten in the wee hours of the morning around a campfire. Society's brilliantly insufferable computer geeks are actually artisans, without any of the kitsch usually associated with the word.
The passion of these kind folks. The atmosphere was so relaxed, I could strike up a conversation with anyone. With two questions, I could have a grown man's eyes light up with child-like glee as he explained something that fascinates him, like the finer points of string theory. It would go something like this:
Q: So, what do you do?
A: I've been going to school. My thesis was just accepted for my PhD in physics.
Q: That must have been intense. What was it about?
Though conversations that started like this, I would bet I have learned more amazing things than I had learned in my first few years of college.
These people build amazing things just for the sake of it. Just because it's cool. Have you ever played a game of quarters with a gauss cannon?
I witnessed tesla coils playing 3-part midi music, using nothing more than high frequency electricity traveling through the air, courtesy of http://hackerfriendly.com/
Toorcamp was incredible. Weeks after it was over, I was left with a depressive kind of longing for that place and those dangerously, dangerously brilliant people. I can't wait, hopefully I will see everyone again in two years time with an amazing project of my own!
---
DEFCON 22 was Epic
Posted By: DAN, at: 2015-03-04 06:49:25 EST.
I've never been surrounded by such a massive amount of Intellect. I bet 1/2 people attending the DEFCON 22 security conference had genius IQs. And everyone was really cool!
I saw plenty of amazing stuff. Sitting in on the "Ask the EFF" was the most inspiring thing at the convention. I've yet to implement as much security and encryption as I should, but at least I started PGP encrypting my personal emails.
This is a video I took of a guy who hacked his badge. He is awesome.
---
Travel Tip: Getting Free WiFi (And Keeping It)
Posted By: DAN, at: 2014-07-27 20:44:38 EST.
People Need WiFi. I need WiFi. International traveling can be rough for nerds. Here are a couple of things I have been using to stay connected. Im pretty sure I found both these tips on LifeHacker.
The first thing you need is a Smartphon App: Free Zone
Free Zone has a couple of cool features:
Has an option to alert whenever an open or accessable network is available near you.
Has a database of passwords for various WiFi connections that people have saved for public (yet password-protected) places. (e.g. restaurants)
While its a great idea, the second option hadn't worked out for me that well, but the more people that use the service, the better it will work. I know I logged at least a couple of restaurant passwords into it in the last couple of weeks.
So the Free Zone App can help you find the WiFi, but plenty of places have time restrictions. For example, I am typing this post from an airport that allows 20 minutes of free internet, and then will not allow you to acess anything anymore without paying a subscription fee. As much as I love the internet, I don't pay for things because I'm a Danarchist and I don't need to make excuses.
There are plenty of places like this. You try to access, it brings up an agreement that you need to accept or something, and then allows you to surf for a bit before shutting you down.
So the time limits imposed can easily be circumvented by spoofing your MAC address. With just a smidgeon of searching, I found this free Windows tool: TMAC
Im pretty sure spoofing your mac is pretty easy in Windows, but this takes out all the guesswork, and just works well.


As soon as your net stops working, all you need to do is:
Open TMAC
Click "Random MAC Address"
Click "Change".
Reconnect to the network that just locked you out. Voila!
It keeps your old MAC for restoring, and makes sure that the new random address is compatible with your network interface card (NIC). Or something like that. I'm not a wizard, but I know it works great :D
---
Trieste, Italy is alright.
Posted By: DAN, at: 2014-07-27 19:57:19 EST.
After you fly in to Trieste, you can buy a bus ticket for 4 Euro that will take you to the city. We had a decent lunch at a small restaurant a few blocks from the bus station. We only had 3 or 4 hours before we could get a bus to Rovinj, Croatia. It was about a 40-minute walk from the bus station to the sea. There wasn't much of a beach, and the walk was all through industrial and rail road area.
We hadn't heard good things about Trieste, so we didn't give it much of a chance. But from what we did see, It's not a destination that I would recommend. But it is centrally located, and flying there is CHEAP. I think I paid less than $80 for two tickets from Paris to Trieste. It is an economical way to get to Slovenia or Croatia, and see some real beauty.
Sky Scanner is the website I used to book most of the flights. It is one of the only sites I found that will allow you to search for the cheapest flight from a specific airport to anywhere in the world. Its basically built for aimless jetsetters like us. I recommend it.
Cheers
---
Sweet Sweet Slovenia
Posted By: DAN, at: 2014-07-26 21:18:56 EST.
Ljubljana (say Loo-Blee-Ah-Nah)was amazing. We arrived by bus in the afternoon (Tip: flying from Paris-Beauvais Airport into Trieste, Italy, then taking a bus to Slovenia saved us at least $100/person over flying). We had booked a place to stay on AirBnB. Neither of us had used the service before, but it ended up working out great. The place was only a 10 or 15 minute walk from the bus station. Ljubljana is super small, and we could walk to everything awesome quite easily.
Our host Luka was a cool guy. He met us at the apartment, and spent a solid half-hour over a tourist map circling all the great things to see and explaining the some things about the city for us. We took his advice about where to go for dinner and where to grab a great view of the city at sunset. The place and food he advised us to get were amazing, definitely one of the top meals on our trip, all for maybe $15-$20 for the both of us. Bosnian food is great, by the way. Its just a bunch of freshly chopped veggies & goat cheese soaked in olive oil, with a plate chocked full of 3 different kinds of sausages. And pita bread.
Afterwords, we hiked up a hill and made it just in time to catch a beautiful sunset over the city.
The next day we saw some sights and took in the town. I'm pretty sure Emma and I got into an argument about something, and ended up checking out the city by ourselves. It has one massive, beautiful park at the west edge of town. Its so large that it just becomes a forest after a while. I spent the afternoon there in my own little picnic, eating fresh produce from the open air market, and reading the book my thoughtful sister had lent to me. I saw an art.
After learning that I had visited Christiana, our host Luka insisted we go to the "artists" part of town. That night, we went out for some drinks in an area that was an old bunker back in WWII, and has since been squated and taken over by hippies and punks and all of those different kinds of outcasts that I love. The place was great. Emma and I instantly gravitated towards this bar that I dubbed the "Punk-Rock Paradise", mostly because it was Tuesday and seemed to be the only bar open.
It was blasting some hardcore low-fi punk-rock in a (probably) foreign language. The beer was cheap and the people were chill. So after Emma and I had another bosnian dinner, I tucked her in bed and struck off solo. I drank beer, played guitar, and smoked ciggarettes with a man named Veiking Leanard for a couple hours. After he left, I sat down near the bar waiting to get a drink, and was befriended by a group of people. They were quite the bunch, there was a Fabio-esque hair dresser, a cute and generous drug-dealer, her boyfriend, and - no shit - a Slovenian Olympic-Gold-Medalist Rower.
I got hammered-drunk with an Olympic Gold-Medallist. Who can even say that?! The dude loved me for some reason. He bought everyone shots of something he denied was tequila. It was a good night.
For our last day in Slovenia, we took a nature trip. We saw the majestically blue Lake Bled, complete with cliff-hanging castle and tiny island church.
After that, it was a short cab ride to The Gorge. It was gorgeous. Some of the prettiest nature I've ever seen.
The next morning, we woke early to take a bus back to Trieste, Italy.
---
Pissed off in Paris
Posted By: DAN, at: 2014-07-16 08:26:22 EST.
---
Christiana
Posted By: DAN, at: 2014-07-10 04:00:00 EST.
For a single day, I have lived in a free city. A city who has no laws. There are, of course, some vague rules: "Do unto others" being the sum of them.

I write by the grace of the full moon. It is only fitting in a municipality that seems to be ruled by free-spirited world-worshipping pagans. The river makes this place feel just like home.
Fuck yeah, Copenhagen. I spent nearly my entire stay in the free city of Christiana. It felt like Christiana was a blend of a trailor-park, music festival, and hippy commune.
Just to the left out of view of the picture, there is a stand selling a single beer for 20 Danish Kroner, or two beers for 30. I decided to take advantage of the deal, and met a new Danish friend named Michael. I am really glad I did, because he informed me that the "No Camera" policy of Christiana only applied to Pusher Street, where openly-selling drug dealers would market their weed. Even though marijuana is illegal, Police aren't allowed into Christiana. But sometimes pictures taken from Pusher street could be used to identify the dealers, they don't much like cameras. I wanted to take a picture of one of the signs, but instead I just found one on the internet.
I partied all night. I kicked a ball around in a game that was a hybrid of soccer and badminton. I sat outside of a bar that would have felt like an old western saloon, except it had the most diverse bunch of people I had ever seen. There was a man with a turban at a table, and a group of preppy brittish guys next to him. I sat and bullshitted with a swedish professor about how awesome guitars are. I hung out to the late hours of the night with an African care-worker while discussing world politics.
Fuck yeah, Copenhagen.
---