Text To Speech: Twitter Feed Style
For today's project, I decided to play around with text-to-speech.
I remembered seeing this comic a while back from XKCD.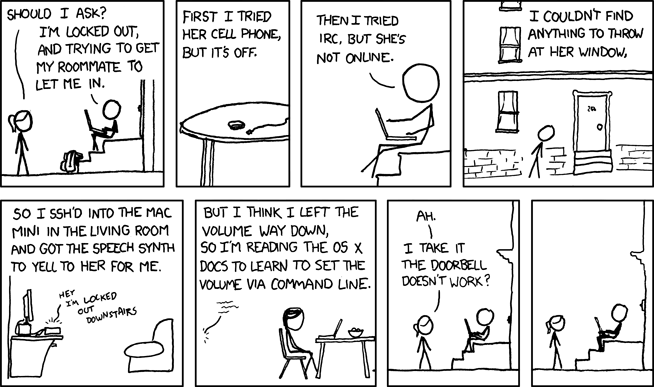 So I went to work finding text-to-speech software that operates via the command line. I found a program called espeak, so I loaded it onto my server.
It turns out espeak had a feature to save the speach output to .wav files. So I got the idea to read live twitter feeds back to you.
And it works! Its not nearly as responsive as I wanted it to be, but I'm just proud of myself for finishing it today. Though apparently it's only working correctly in Chrome right now. FF wont refresh the file. IE just flat out wont play it.
Unfortunately, it turns out that people who post to twitter using hashtags will post nothing but hashtags. Which is really dumb to hear a robot speak to you. It needs work, and I might get around to that someday.